January-April 1896, Aubrey Beardsley Publishes Under the Hill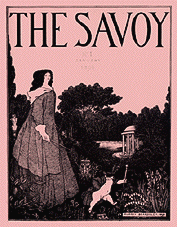 In 1896, fragments of Aubrey Beardsley's erotic novella Under the Hill are published in the journal Savoy. Offering a Decadent reworking of Richard Wagner's opera Tannhäuser (1845), the text dwells upon the eponymous character's sexual adventures in the realm of Venus. In 1907, publisher Leonard Smithers issues an enlarged version of the novella which includes some previously censored material. The work is translated into Russian (1905/1907) and German.
Articles
Sasha Dovzhyk, "The Queer Little Grove: The Adoption of Aubrey Bearsley by Mikhail Kuzmin"