Pair of Italian Brown and Polychrome Decorated Table Fans, 19th century
Early 19th century, English Chinoiserie table fans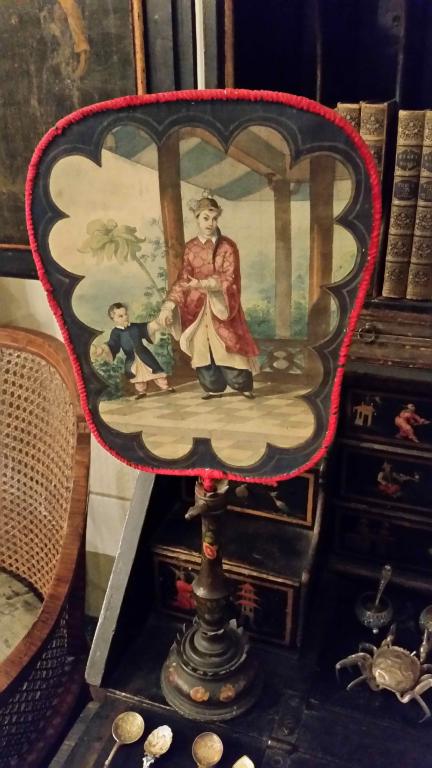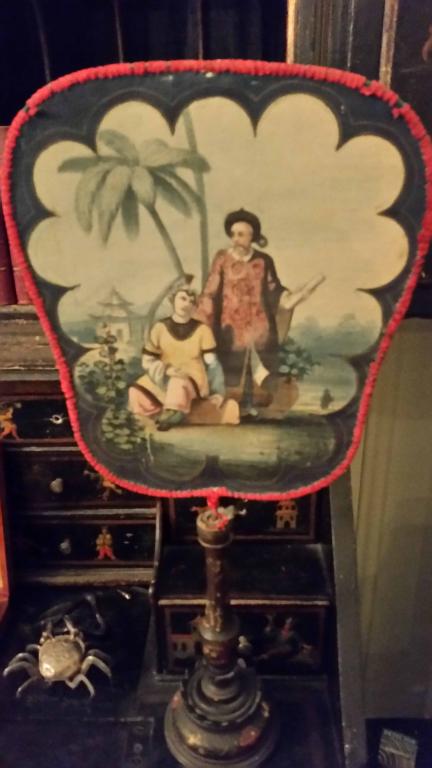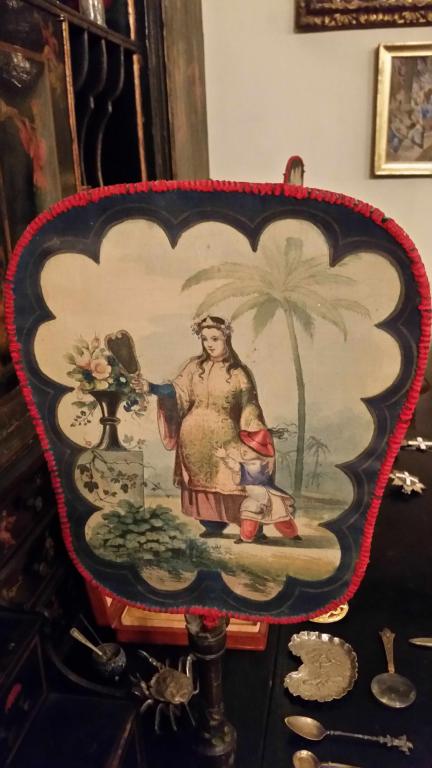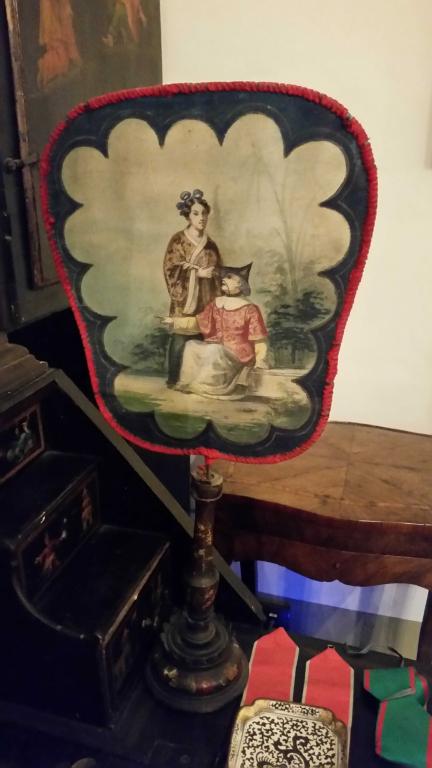 This pair of fans sits on the front flap of a bureau in the ante-room to Acton's bedroom.  The fans date from the early C19th, and are part of the Western European craze for Chinoiserie.  They are made of broad-woven silk; measure roughly 10" by 6", and have removable panels.  They have no functional handle, but are mounted on a balustrade-style support - rather like a candle-holder - and a domed foot decorated with flowerheads.  The fans comprise four different scenes, each having a recto and a verso.  The scenes are more suggestive of Chinese motifs than directly representational.
On the recto of Fan #1 is a woman - possibly pregnant - holding a small child by the hand, and standing in a scene which is both Westernized in its flower urn and tropical in its palm trees.  The recto of Fan #2 depicts two adult males in front of a river or water, with a pagoda and, again, palm trees in the background. One man holds a scroll and is possibly a teacher or a trader.  Verso of Fan #1 shows a man holding a child by the hand on a verandah - family motifs thus dominate on this fan.  The recto of Fan #2 shows two adult women - one standing, one seated - again in an outdoors scene, with rather unclear foliage.  The edges of all four images are scalloped, suggesting a formal, decorative vignette.  There is a red fabric edge - possibly of rough silk - around the fans' edges. 
The craze for Chinoiserie in Western Europe was a product of considerable trade in Chinese goods from the mid C17th to the early C19th (see Chi-Ming Yang,  Performing China: Virtue, Commerce, and Orientalism in Eighteenth-century England, 1660-1760 (Johns Hopkins University Press, 2011).  The fans were designed for decoration and display rather than functionality, even as they referenced East Asian habits of fanning onself (habits very necessary, of course, in places like European crowded ballrooms!).  Many of the supposedly Chinese designs were created and collected by French designers.  In the mid-1730s the French designer Jean Revel (1684–1751) produced a number of chinoiserie silk designs in an early Rococo style, and from the mid-1750s Jean Pillement engraved fanciful chinoiserie designs that were drawn upon by other textile designers.  These were brought together in his One Hundred and Thirty Figures and Ornaments and Some Flowers in the Chinese Style (London, 1767). His designs also appeared in such source books as Recueil de différentes fleurs dans le goût chinois, propres aux manufactures d'étoffes de soie et d'indiennes (London, 1760) .  They were used by textile printers in England and France, and were further drawn on as sources for other decorative objects.
London's Fan Museum has held several exhibitions of Chinese fans, which focus on more functional, wide-spreading, folding fans, rather than these two objects, which seem more intended for display.