The Palais Garnier, a building ran by the Paris Opera Ballet Company or "Opéra national de Paris," was completed on January 5 of 1875. This building was designed as a lasting mark left by Napoléon III, following a failed assanitation attempt. Located in the 9th arrondissement of Paris, it was believed such an open standing building would ensure security as the attempt on the President's life was still fresh. The building boasts expensive material such as marble, gold, elaborate statues, and was built with a power plant in its basement. This gave it the title of "world's first electrified opera." Further, it claims to be the building where the phonograph and théàtrophone were first tested. These combined advances and symbols of wealth drew high members of society and bourgeoisie, these people responsible for much of the profit and donations to the Paris Opera Company. These wealthy men were granted private access to the dancers in the "foyer de la danse" located behind the stage, which had been constructed with their comfort in mind. Unfortunately, this area was famously used for making social contracts between these men and dancers in need, giving late 19th century ballerinas the social standing of prostitutes. Depictions of this exploitation can be seen in paintings by Edgar Degas, who witnessed these contracts when in the foyer de la danse himself.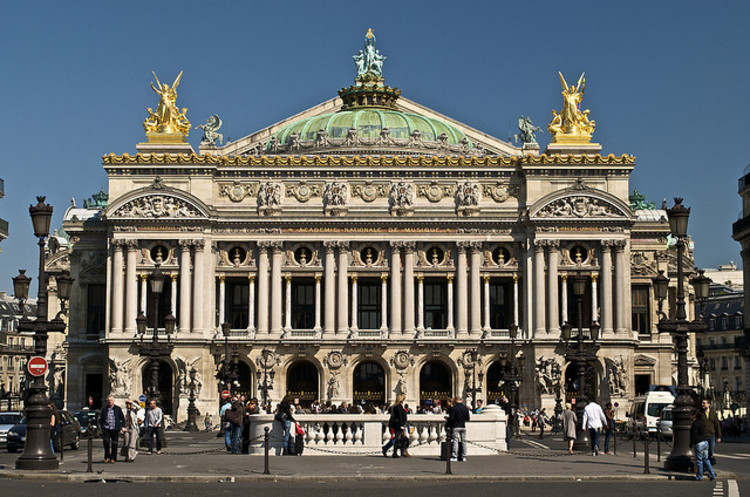 Fiore, Julia. "The Sordid Truth behind Degas' Ballet Dancers." CNN, Cable News Network, 6 Jan. 2021, https://www.cnn.com/style/article/edgar-degas-ballet-dancers-artsy/index.html. 
13/14 The Palais Garnier or the "New Opera" — 350-Years ... https://www.operadeparis.fr/en/magazine/350-years/1314-the-palais-garnier-or-the-new-opera.
Sveiven, Megan. "Ad Classics: Paris Opera / Charles Garnier." ArchDaily, ArchDaily, 23 Jan. 2011, https://www.archdaily.com/105785/ad-classics-paris-opera-charles-garnier.
Coordinates
Latitude: 48.871969700000
Longitude: 2.331601400000
Timeline of Events Associated with The Palais Garnier