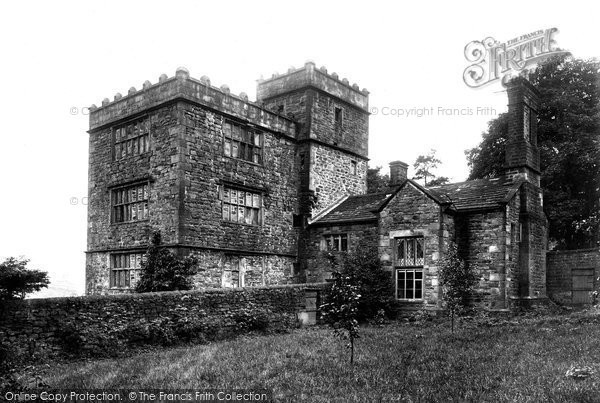 Thornfield Hall is the estate at which Jane Eyre arrives to work as a governess at the onset of Chapter 11 (Brontë ch. 11). Jane travels from Lowood School to the estate of Mr. Rochester in Thornfield. Thornfield Hall is described by Mrs. Fairfax, the manager of the home, as "a fine old hall," though she notes it is "rather neglected of late years perhaps, but still it is a respectable place" (Brontë ch. 11). The exterior of the hall is "three storeys high, of proportions not vast, though considerable" (Brontë ch. 11). Jane herself describes the halls of the home as "wide," "dark," and "cold," likening certain oak features of the home, such as the staircase and large bedroom doors, to a church (Brontë ch. 11).
As for the history of Thornfield Hall, it is thought to have been inspired by Ellen Nussey's home at North Lees Hall in Hathersage ("North Lees Hall"). Ellen Nussey was Charlotte Brontë's friend, and Bronte stayed in North Lees Hall during the summer of 1845, two years before her infamous novel, Jane Eyre, was published ("North Lees Hall"). The description of Thornfield Hall shares similarities with the description of North Lees Hall. North Lees Hall is "three storeys" tall and contains "an oak newel stair" ("North Lees Hall"). The hall was restored in 1965 and is listed under the Planning Act of 1990 to protect its historical significance today ("North Lees Hall").
The significance of North Lees Hall being a physical structure which Charlotte Brontë actually visited is that it strengthens her descriptions of the estate. Having been in a similar structure herself, Brontë can create a living description that tantalizes the senses with her use of vivid imagery while speaking as the voice of Eyre. Brontë can depict for the reader not only how the hall looks, but also how it feels, down to the details of a "chill and vault-like air" in the stairway that suggests "cheerless ideas of space and solitude" in the home (Bontë ch. 11).
"North Lees Hall." Historic England. 2016. historicengland.org.uk/listing/the-list/list-entry/1109774?section=official-list-entry, Accessed 7 Jun. 2022.
Coordinates
Latitude: 53.347418500000
Longitude: -1.648013700000