My case study in COVE-engaged pedagogy showcases the "Drawn to Books" Gallery, an open-access repository of images from the books and artworks in an exhibition collaboratively produced by students in my "Pre-Raphaelite Circle" module ("course," in North American parlance) in 2017. This course did not involve COVE from the outset; rather, I used COVE Gallery tools after the course was finished to complement a brick-and-mortar exhibition that my students co-curated. As I will discuss here, COVE provided the means to create an online exhibition that will extend and outlast the museum-hosted version, preserving the students' contributions and allowing a much larger audience to view images of the works. I will also note some challenges for implementing digital platforms in the classroom in the unique context of UK higher education.
Background
The first iteration of my "Pre-Raphaelite Circle" final-year, elective module was held in spring 2016 at the University of Birmingham (UoB). In addition to having students read widely across the prose and verse of the Pre-Raphaelite Brotherhood (PRB) and their followers, one goal of the course was to introduce students to the rich cultural and archival Pre-Raphaelite resources in and around Birmingham. We took field trips to the Birmingham Museum and Art Gallery to visit its PRB collections; to Wightwick Manor, an arts and crafts National Trust home and museum in nearby Wolverhampton; and to the campus-based Barber Institute art gallery and Cadbury Research Library, UoB's special collections archive. Students responded enthusiastically to the varied activities and the class was successful on the whole, but I was not satisfied with the assessment model: grades were based entirely on a single three-hour exam, something I had stipulated on an early module proposal form without realizing that I was then locked into that assessment.
Having moved to Birmingham from Texas to start a position in January 2015, I was still on a learning curve when it came to UK higher education practice. Here, modules are subject to internal and external oversight. Graded assignments are either double-marked or moderated internally, and examiners from outside one's own university survey module marks as part of the ongoing process of external review. This is to ensure fairness in grading both within a given department's modules and across multiple universities. External reviewers are generally asked to approve assignments well before a module is taught; this would include both the format of graded assignments (e.g. 2,500-word essay or 2-hour timed examination) and the phrasing of questions. What is more, consumer protection clauses in UK law mean that there is an imperative to ensure that the module students sign up for—assessments included—is the module that they ultimately take. Practically speaking, this means that instructors must plan assessments far in advance.
For the second iteration of the module, held in autumn 2017, I knew that multimodal assessments would be better suited to the course content. We would repeat the same field trips, but one of my own research projects was leading to an interesting opportunity.  After becoming acquainted with the important work of the Birmingham School of Art—the first municipal art school in England—I began research that culminated in a Burlington Magazine article on the local illustrator and designer Celia Levetus. Largely forgotten today, in the 1890s Levetus was a prodigious and prolific member of a group of significant women illustrators trained at the Birmingham School; others included Georgie Gaskin, Isobel Adams, and Violet Holden. I learned while researching Levetus that the Cadbury Research Library holds an extraordinary collection of Birmingham-School works, from which a compelling exhibition could be drawn. Linking the upcoming "Pre-Raphaelite Circle" module to such an exhibition would, I thought, allow students to gain applied research and writing experience as part of their graded coursework.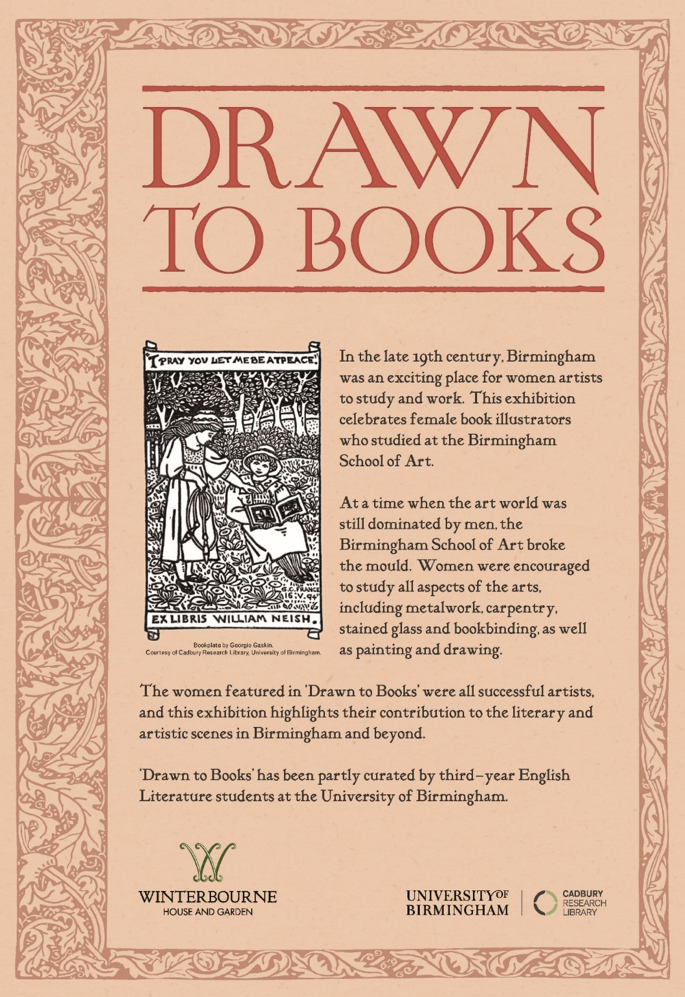 Figure 1: Gallery poster for "Drawn to Books"
That exhibition became "Drawn to Books: Women Illustrators of the Birmingham School," a brick-and-mortar show staged in one of the gallery spaces within Winterbourne House and Gardens, an arts-and-crafts house museum and botanical garden on the UoB campus (see fig. 1). Coordinating with a museum, library, or archive to produce an exhibition generally requires extensive planning; most museums set their exhibition schedule years in advance, and to accommodate this timeline, I began working with the librarians from the Cadbury in autumn 2016 for a spring 2018 show.  Originally intended for a smaller exhibition case in a large teaching building, the exhibition was moved to Winterbourne after construction on campus necessitated a change of venue. This move turned out to be a net positive, as the new gallery offered additional cases, allowing us to include a larger range of content than originally intended (see figs. 2 & 3). Ultimately, the exhibition cases contained a combination of books from the Cadbury Research Library, books on private loan, and original artworks lent to the museum by Levetus's family.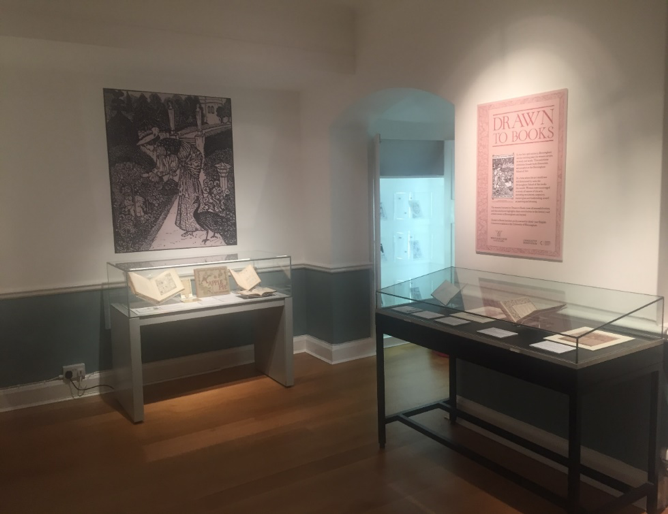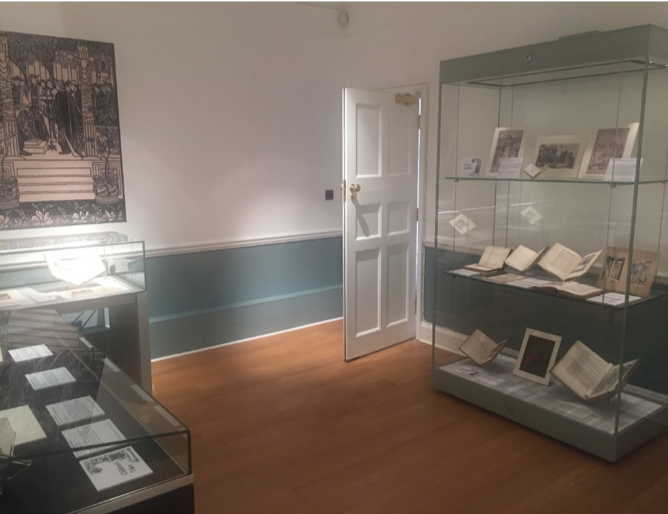 Figures 2 & 3: "Drawn to Books" Exhibition at Winterbourne
The Module
The exhibition and the revised assessment strategy for the module developed in tandem. I wanted students to feel ownership for the exhibition and sought their involvement in selecting the works for the show. For help with this process, I turned to the marvelous Martin Killeen, Senior Librarian at the Cadbury, who developed a master list of around 50 related works from the Cadbury's holdings. Early in the semester, we spent one of our 2-hour seminar sessions in the library, with students spending one hour in a workshop on nineteenth-century periodicals and books (e.g. Kelmscott editions, The Yellow Book, The Century Guild Hobby Horse, the Moxon Tennyson) and the other hour in the conservation studio, where they perused the pre-selected works. From that large group of books and artworks, each of the 20 students selected one work that they would—either individually or as one of a pair—adopt for the duration of the semester (see fig. 4).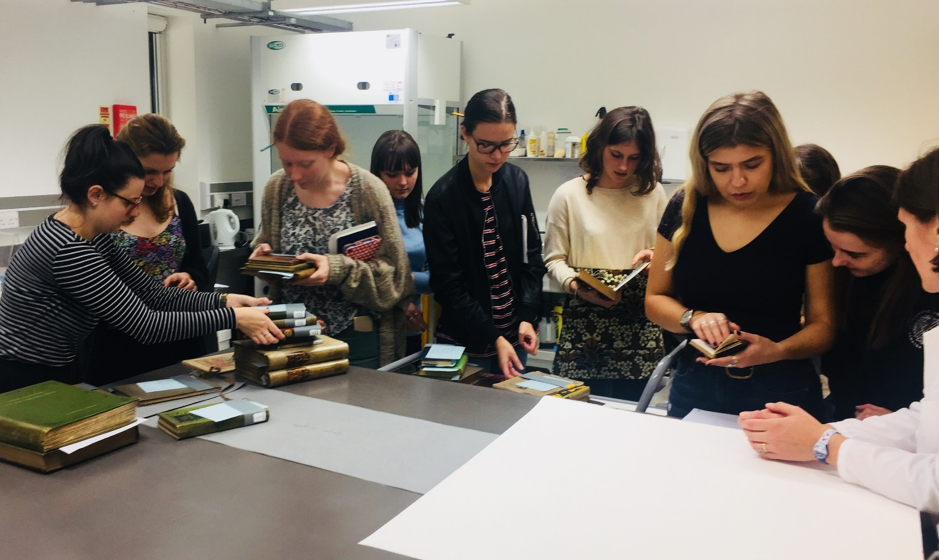 Figure 4: "Pre-Raphaelite Circle" students in the Cadbury Research Library's conservation studio, reviewing books to include in the exhibition.
Two of the graded assignments were built around that adopted work. For one assignment, students wrote a 30-word gallery caption and a 1,000-word mini-essay (25%), to be pitched to a public audience of interested museum-goers. These formed the basis for the actual gallery captions and the contents of an exhibition booklet; they also formed the basis for the captions to be included in the COVE gallery online.  For another assignment (10%), students developed a 10-minute oral presentation on their chosen work. All were invited to participate in an optional gallery-talk event held in the following semester on March 8th 2018, International Women's Day; the oral-presentations functioned as preparation for this event. Despite there being no grade incentive to participate in the gallery-talk, most chose to do so (see fig. 5) and delivered deeply informed talks to the public, drawing on the experience from their more formal classroom presentations.  (The remaining 65% of their course mark was devoted to a conventional 2,500-word essay; more on this below.)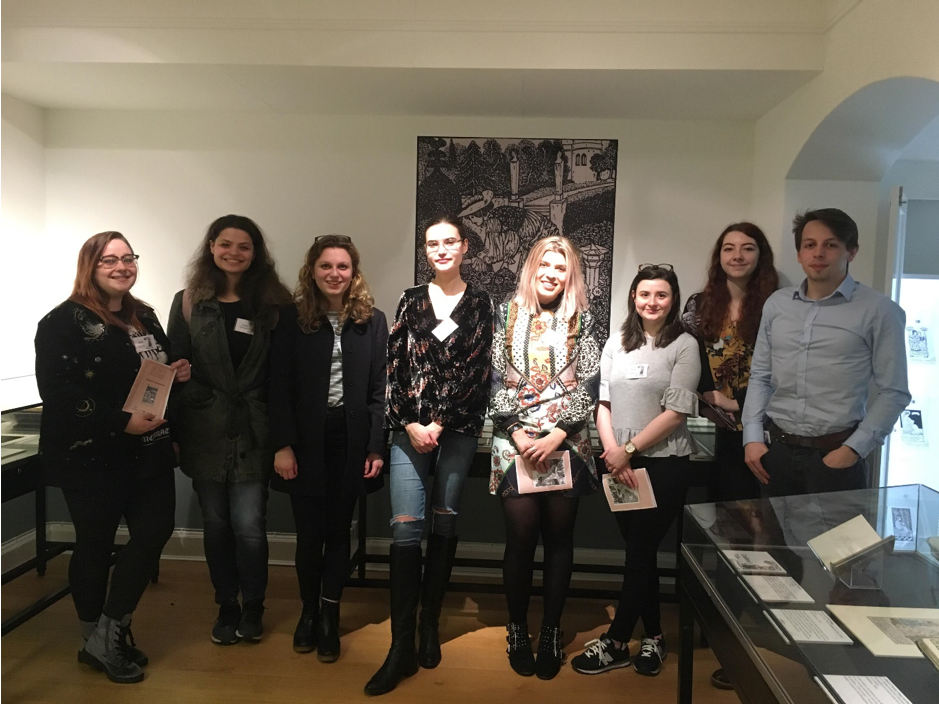 Figure 5: Some of the "Pre-Raphaelite Circle" students in the Drawn to Books gallery at Winterbourne House and Gardens for gallery talks on International Women's Day.
The exhibition has been a success by all measures, garnering significant public interest and positive feedback. Student involvement—which was acknowledged on all of the exhibition signage and in the exhibition booklet—and the local interest angle surely contributed to its popularity. But there were challenges on both the pedagogical and organizational fronts. As noted above, the demands of advance course development and the external review process are not insignificant, though those administrative hurdles can be overcome with early planning.  A more pressing concern, and one that I did not anticipate, arose among the students. In their third and final year of university, their module grades are weighted more heavily than in previous years, so they recognize that a good deal is riding on their performance in the module, and the novel assignments seem to contribute to their anxiety.
English Literature students at UoB were accustomed to three primary forms of assessment: formal analytical or argumentative essays, close readings, and exams. The university has strongly encouraged faculty to develop more varied and innovative ways of assessing student work. The caption/mini-essay and oral presentation assignments easily qualified as innovative assessments, and local and external reviewers met them with enthusiasm, not resistance. Yet, I was surprised by the amount of trepidation voiced by the students, many of whom seemed to feel unnerved by being asked to write in a manner they were unaccustomed to, even if this kind of public-facing writing would be more common in future employment than formal academic essay writing. They also voiced a good deal of concern about having to think and write about images as well as, and in relation to, texts, something that felt unfamiliar and outside of their training to-date. To mitigate these anxieties, I created more assignment scaffolding than usual. We took careful note of gallery captions when visiting museums, considering length and depth of information. I encouraged them to imagine a potential reader—someone interested in PRB-related work but not necessarily deeply educated in its history or terminology—when composing their captions and mini-essays. And I developed guidance documents explaining the expectations for the different grade ranges. From a pedagogical standpoint, I felt these anxieties were primarily a sign of positive intellectual and methodological stretching, and they certainly are not unique to this module or these students; many of the COVE teaching articles address some kind of growing pains felt by students, either with regard to the tasks or the technology. 
Despite their concerns, students performed beautifully on these tasks, with average grades on the relatively non-traditional assignments ultimately exceeding average grades on the more traditional 2,500-word essay. Of course, they couldn't know that during the semester, and they had to rely on faith and my vocal encouragement to complete the tasks. The final-year undergraduates said surprisingly little about the assessments or the exhibition in their semester-end feedback. But one of the two MA student who also took the module clearly appreciated the value of the public-facing writing that would remain viewable long after the end of the semester: "We had three field trips which is rare in English modules, we took part in a CRL gallery exhibition, we were invited to speak at a symposium Rebecca was working on—just incredible for a CV and all related to module content."
COVE Gallery & Timeline
COVE, readers will surely notice, has been all but absent from this narrative so far. There are some practical reasons for this. The required pre-clearance for assessments noted above meant that I was unable to use COVE submissions as a formal assessment during the autumn term. There was also the cost issue. In his COVE teaching piece, Ken Crowell rightly notes that the $10/semester COVE fee offers significant value. At Birmingham—and, based on my conversations with colleagues at other universities, across the UK sector—this cost poses something of a challenge as it is difficult to require students to make any purchases; a student's grade, in other words, cannot be dependent on their having to purchase any single book or, in this case, a COVE subscription. 
Yet COVE's benefits made it worthwhile to find work-arounds for these issues. For all of the preparation that went into the exhibition, the potential for public engagement is limited by access—not everyone can get to Birmingham to view the gallery—and the short duration of the show. The work produced by students in the module is also at risk of being ephemeral. COVE offers an effective way to mitigate those limitations by archiving the exhibition items in a COVE Gallery. Because the semester had ended by the time the exhibition was staged, students could not be expected to upload their work to the gallery during spring term. I was able to secure funding from the Birmingham Alumni Impact Fund to support COVE subscriptions and the International Women's Day event and, moreover, to pay one of the module's students to continue on as exhibition web assistant, uploading the student-generated content into the COVE gallery and timeline applications.
The result is the COVE "Drawn to Books" Gallery and timeline, an open-access repository of samples from the exhibition whose captions were primarily written by "Pre-Raphaelite Circle" students, and later edited with input from Winterbourne curator Henrietta Lockhart to ensure accessibility. As the captions were intended by design to be informative but not expressly scholarly, the gallery is not subject to the kind of rigorous peer review that a COVE edition might undergo. Nevertheless, the gallery documents and preserves the students' captions and moreover makes images from the exhibition, many drawn from books that are exceedingly rare and not digitized, accessible to the public. The COVE Gallery was particularly well suited to meet these goals of preservation and access, augmenting the Winterbourne museum website, which is intended to advertise, as opposed to archive, the show. What is more, COVE gallery items have the promise of life outside of this particular virtual exhibition, as they become part of a larger collection of items that future scholars and students can use when building their own galleries, annotations, or timelines.
In an ideal world, students would have been involved with COVE from the beginning. Knowing the capabilities of the platform as well as some of the obstacles to implementation, I am now in a better position to anticipate and head off some challenges well in advance of the module's next iteration. The COVE Gallery provides an easily accessed and intuitive interface for students to create virtual exhibitions, independent of the need for physical museum space, and looking forward, I plan to use it in courses to facilitate student-led virtual exhibitions. Rather than serving solely as a site to document a brick-and-mortar show, COVE can function as the exhibition space itself.
I am grateful to the University of Birmingham Alumni Impact Fund for supporting the students' efforts, and to the staff at Winterbourne House and Gardens, especially Henrietta Lockhart and Lee Hale, and at the Cadbury Research Library, especially Martin Killeen, Marie Chappell, and Sarah Kilroy, for their assistance throughout the project.