A Sketch of Frank Bellew
Judging from the text and paratexts of The City of the Jugglers, Frank Bellew's relationship with William North extended beyond that of contracted illustrator to author.  In a parenthetical in book I, chapter III, North credits "my friend Bellew" for describing "the crawling toadyism of certain scribblers" as "'before the public, and behind the age'" (p. 30 of the original); and, among the advertisements printed on the final unnumbered sheets of the novel is a projected new edition of North's translation of Lamartine's Poetic Meditations, to be "elaborately illustrated by F. H. Bellew and W. North" (no copies of the book are listed in WorldCat, suggesting that it may never have made it to publication).
Two and a half years North's junior, Bellew was born Francis Henry Temple Bellew in Kanpur (then Cawnpore), India on 18 April 1828 to Captain Francis-John Temple and Anne Smoult Temple; he was distantly related to Sir Patrick Bellew, Irish Whig MP for County Louth 1831-32 and 1834-37, Lord Lieutenant of Louth 1831-1866, raised from baronet to 1st Baron Bellew in 1848.  In 1850, after a brief residency in France, Frank Bellew moved to London, where he worked as an architect and illustrator (he is credited with illustrating four of the five volumes advertised at the back of The City of the Jugglers), and presumably where he met North.  Like North, Bellew moved to New York in 1852 and began to associate with the New York bohemians who congregated at Pfaff's beer cellar in Greenwich Village.  He co-founded the short-lived illustrated weekly The Lantern, in which he provided this early drawing of American icon Uncle Sam (standing at left):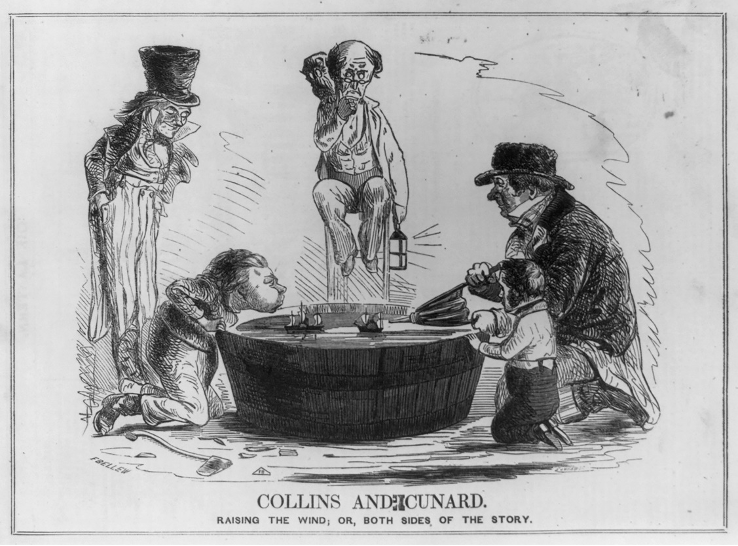 Figure 1: Frank Bellew, "Collins and Cunard. Raising the wind; or, both sides of the story," The Lantern vol. 1 (13 March 1852): p. 97.  Image courtesy of the Library of Congress https://www.loc.gov/resource/cph.3b12885/
Additionally, Bellew produced illustrations and caricatures for Yankee Notions, the New York Picayune, Nick-Nax, Vanity Fair, Harper's Weekly, Harper's Monthly, Scribner's Monthly, The Illustrated Times, and, from 1857-62, Punch (his signature being a flattened triangle both with and without his initials):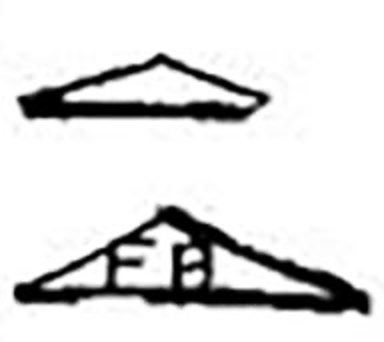 Figure 2: Frank Bellew's signatures in Punch, reprinted in M. H. Spielmann, The History of Punch (London, Paris, & Melbourne: Cassell and company, 1895), p. 574.
As is evident from The City of the Jugglers, Bellew also generated illustrations for books, including for his own Kossuth Coppered, or, The Banquet at the Capital of Laputa: Containing Gulliver's Great Speech (New York: T. Frere, 1852); The Art of Amusing. Being A Collection of Graceful Arts, Merry Games, Odd Tricks, Curious Puzzles, And New Charades. Together with Suggestions for Private Theatricals, Tableaux, and All Sorts of Parlor and Family Amusements. With Nearly 150 Illustrations by the Author (New York: Carleton; London: S. Low, Son & Co., 1866) [reprinted in 1868 (New York, Carleton; London, S. Low, Son & Co.), 1870 & 1871 & 1873 (London: J. C. Hotten), 1875 (Edinburgh: John Grant), 1877 (London: Chatto & Windus), 1878 (New York: G. W. Carleton & co., London: S. Low & co.), 1879 (New York: G. W. Carleton & co.), and 1890 (London: Chatto & Windus)]; That Comic Primer (New York: Carlton, 1877) [reprinted in 1881 as A Bad Boy's First Reader (New York: G. W. Carleton & Co.)]; and The Tramp: His Tricks, Tallies and Tell-Tales: With All His Signs, Countersigns, Grips, Pass-Words and Villainies Exposed (New York: Dick & Fitzgerald, 1878).
According to Vol. VIII (1876) of the Journal of the American Geographical Society of New York (stable url: https://www.jstor.org/stable/196371), Bellew was also among the life-fellows of the American Geographical society.  He died in the Long Island home of his daughter on 29 July 1888.  His son, also named Frank (1862-94), worked alongside and eventually eclipsed the reputation of his father as an illustrator, signing his work "Chip" and working as a cartoonist at New York Life.
Bellew is profiled with varying degrees of brevity in the following print and digital publications:
Boase, Frederic.  Modern English Biography: Containing Many Thousand Concise Memoires of Persons Who Have Died During the Years 1851-1900, with an Index of the Most Interesting Matter.  Vol. IV.  Truro: Netherton and Worth, 1908, p. 353.
Fine Art Database.  Accessed 12 June 2020.  http://fineartdatabase.org/francis-frank-henry-temple-bellew-1828-1888/
Houfe, Simon.  The Dictionary of 19th Century British Book Illustrators and Caricaturists.  Woodbridge: Antique Collectors' Club, 1998, p. 62.
Spielmann, M. H.  The History of "Punch."  London, Paris, & Melbourne: Cassell and Company, 1895, pp. 500-501, 574-75.
Whitley, Edward. The Vault at Pfaff's.  Lehigh University.  Accessed 12 June 2020.  https://pfaffs.web.lehigh.edu/node/54242 [includes a bibliography of further references] 
Citation: Pionke, Albert D. "A Sketch of Frank Bellew." William North's The City of the Jugglers, edited by Albert D. Pionke et al, COVE Editions, 2020, https://editions.covecollective.org/edition/city-jugglers/sketch-frank-bellew.