Triangle of Love: Michael Field and Whym Chow
Kwency Mackie
Katharine Bradley (1846-1914) and Edith Cooper (1862-1913) were an aunt and niece duo, and lovers, that coauthored under the male pseudonym "Michael Field." Collectively, Bradley and Cooper published around 40 works of poetry and verse drama.  In choosing the name "Michael Field," Bradley and Cooper demonstrated their union as partners—their poetic and personal oneness. It also allowed them to navigate the male-dominated literary arena; however, their singular masculine identity was short-lived, following Robert Browning's revelation of Michael Field as two women (Thain and Vadillo 23, 28-29).  The uptick of female writers in the nineteenth century propelled women to the front, some who adopted male pseudonyms or androgynous names to avoid being boxed into how women are "supposed to write" (Lundberg 270)  Bradley and Cooper defied the ideal lifestyle of Victorian women personally and professionally: through their sexuality and by collaboratively writing as Michael Field.  In an extreme act of nonconformity, perhaps, the couple published Whym Chow: Flame of Love, a collection of elegies dedicated to their pet chow Whym. 
Katharine Bradley was born on October 27, 1846, in Birmingham, England. Within two years of her birth, Bradley's father, a tobacco manufacturer died, ultimately providing Bradley her financial independence. Edith Cooper, the daughter of Bradley's older sister Emma, was born January 12, 1862, in Kenilworth, England.  After health complications prevented Cooper's mother from caring for her and her younger sister, Bradley became the legal guardian to her niece, Edith. Both university-educated, the women eventually lived together and settled in Richmond, England, where they were surrounded by a small literary and artistic inner circle.  Although their first co-authored verse drama was published under the names Arran and Isla Leigh, in  1884, Bradley and Cooper stylized themselves as a single author: Michael Field ("Michael Field (Author)").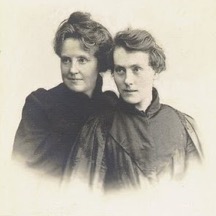 Bradley and Cooper's adoption of Michael Field was their ode to each other and their union.  Writing under one name showed togetherness: "a 'happy union of two,' as they wrote in their journal Works and Days, begun in 1888 (qtd. in Thain and Vadillo 23).  Other female writers, like Mary Ann Evans, better known as George Eliot, escaped the limitations of writing categorical lighthearted romantic pieces of literature by using a male pseudonym.  Some female authors chose to use male pseudonyms to prevent male readers from avoiding their work, encouraging universal opportunity. (Lundberg 270) However, as Thain and Vadillo point out, the choice to use Michael Field "stemmed from an aesthetic programme that proclaimed the primacy of art over life" (23). Michael Field, the male poet, was now "positioned with newer and younger generation of modern poets" that "adopted the Bohemian ethos and modus vivendi of the art for art's sake movement" (Thain and Vadillo 36). This Bohemianism is demonstrated in the pagan aesthetics woven throughout their writing, a paganism that flirts with various spiritualities, most particularly Christianity.[1]
In 1907, soon after the death of Whym Chow, Bradley and Cooper converted to Catholicism, concurrent with the ill-health of Cooper. While Michael Field's earlier works consistently focused on the theme of pagan aestheticism, their later works have a decidedly Catholic influence. Whym Chow: Flame of Love merges these two traditions, offering a volume that is at once sacred and profane. In the title and throughout the collection, the image of the flame is both a metaphor for the dog, and for the love between Bradley, Cooper, and Whym Chow. It alludes to The Living Flame of Love by St John of the Cross (Kersh 257), drawing parallels between Catholicism and the women's desire.  The flame reflects the love for the Holy Spirit, the third part of the Holy Trinity.  Indeed, their own poem "Trinity" connects the religion with desire:  "O God, no blasphemy / It is to feel we loved in trinity" (lines 3-4). In these lines Field asks God not to see the love between the women and Whym as a mockery of the Holy Trinity, but as real love, developing a spiritual bond between them.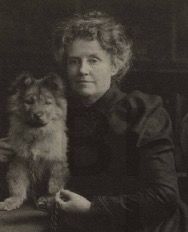 Whym Chow was published in 1914 by Bradley, after the death Cooper, though the majority of poems were written in 1906, following the death of Whym Chow from meningitis.  This collection displays the relationship between the two women and Whym, who is endearingly referred to throughout as their "flame."[2]  Whym lived with the couple from 1898 to the time of his death in 1906 (Kersh 256).   Field addresses the mourning felt by both authors upon the dog's death, and later poems speak to the loss of Cooper, who died one year before Bradley from cancer.[3]  Loss and memorial, however, served as larger functions for Michael Field: Whym was named after the mountaineer Edward Whymper who found the body of James Cooper,  Cooper's father who died during a hiking accident in the Alps (Kersh 257).  The dog, therefore, becomes a conductor of the love and grief felt from the loss of a close family member, a loss that becomes in the poems a focus of ambiguity: is the loss the loss of Cooper's father, Whym, or Cooper herself? Whym Chow, then, becomes a metaphorical figure for grief and absence, as well as love and desire.
Works Cited
Kersh, Sarah. "Betwixt Us Two: Whym Chow, Metonymy, and the Amatory Sonnet Tradition." Michael Field: Decadent Moderns. Ed. Sarah Parker and Ana Parejo Vadillo. Ohio State UP, 2019."Michael Field (author)." Wikipedia, The Free Encyclopedia. Wikipedia, The Free Encyclopedia, 20 Feb. 2021. Web. 5 May. 2021.
Notes
[1] For more on the spiritual aspects of Whym Chow, see McKenna Odom's and Christopher Kirk's essays in this collection.
[2] See Kelsie Kato's "Female Marriage and the Triangulation of Michael Field and Whym Chow" for further discussion of their triangulated relationship.
[3] See Emma Butler's "Elegy and External Circumstances" for a discussion of Whym Chow as an elegy to both Whym Chow and Edith Cooper.