Brief Biographies of Clemence and Laurence Housman
Clemence Annie Housman (1861-1955)
Clemence Annie Housman was born on 23 November 1861 in Bromsgrove, Worcestershire to Sarah Jane and Edward Housman. Since she was born on St. Clement's day, her mother, who was Anglican and very religious, named her Clemence. She was the third child in a family of seven siblings, the eldest of whom was a famous poet and classical scholar, Alfred Edward Housman (1859-1936) (Oakley 2-3). Clemence spent her early childhood years in Perry Hall with her family, had her early education under the care of her governess (8), and later attended Bromsgrove School of Art (23). 
After the death of her father, Clemence left for London with her younger brother Laurence Housman in November of 1883 (Oakley 28), where they both attended Miller's Lane City and Guilds School. After completing her education, Clemence began her career as a wood engraver (32). Her excellence in wood engraving led her to create engravings for magazines such as The Graphic (34). However, due to advancements in photomechanical processing, by the mid 1890s her engraving work was no longer needed for popular magazines (38). Later on, Clemence did wood engravings for some of Laurence's works such as The Field of Clover (1898) and Blue Moon (1904), and for fine presses.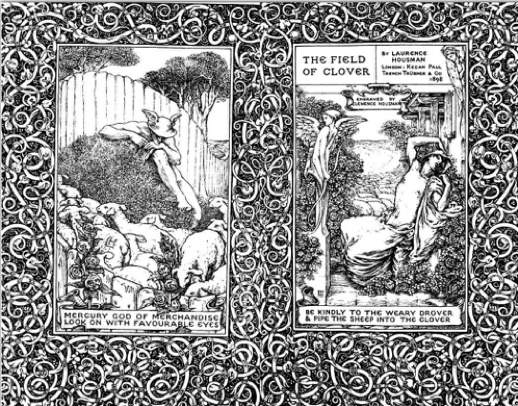 Figure 1. Clemence Housman's intricate wood engraving after Laurence Housman's design for the frontispiece and title page of The Field of Clover (1898)
In 1890, Clemence began her career as a writer when she published her first Gothic novella, The Were-Wolf, in Atalanta magazine, illustrated by Everard Hopkins (1860-1928). Thanks to Laurence's connections with publisher John Lane at The Bodley Head, The Were-Wolf took book form in 1896, illustrated by Laurence while Clemence engraved the images. The Christian themes in The Were-Wolf may have been influenced by her upbringing, as well as her interest in Charles Kingsley's The Heroes (1855) as a child (10). As Laurence mentioned in his autobiography, The Unexpected Years (1936), Clemence "had an inborn appetite which she has never lost for heroes and heroines in suffering for the sins for others" (101). Following The Were-Wolf, Clemence published two more novels in the next decade, The Unknown Sea (1898) and The Life of Sir Aglovale de Galis (1905). 
Clemence also dedicated a significant part of her life to the women's Suffrage movement in the early twentieth century, as did Laurence. The siblings helped create banners for the suffrage parades between 1908 and 1914 (designed by Laurence and embroidered by Clemence). In 1909, Clemence and Laurence co-founded the Suffrage Atelier (Oakley 75-6). She also joined the Women's Tax Resistance League (WTLR) in 1910, participating in protests in which women refused to pay their taxes until they obtained the right to vote. As a result, Clemence was arrested and served one week in Holloway Prison, London (86).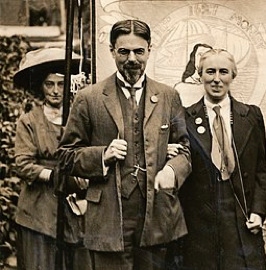 Figure 2. Laurence and Clemence Housman wearing Suffrage Badges and standing in front of a Suffrage Banner, circa 1911. LSE Library. Wikimedia Commons.
Clemence spent her later years with Laurence in Street, Somerset, where she no longer worked on wood engravings or writing novels. She did, however, collaborate with Laurence in 1924 on a film script of The Were-Wolf (Kooistra 13-14). After suffering from a severe stroke in September of 1953, Clemence moved into a local nursing home called Avalon, where she spent the rest of her years until she passed away on 6 December 1955. Her ashes were buried at Smallcombe Cemetery, Somerset (Oakley 139-40). 
Laurence Housman (1865-1959)
Laurence Housman was born on July 21st, 1865 in Bromsgrove, Worcestershire (Oakley 5). His mother named him Laurence because he was baptized on St. Laurence's Day (2). He was the second youngest of seven siblings and was born four years after Clemence. Laurence completed his elementary education at Bromsgrove School before moving to London in 1883 with Clemence, where he continued his studies at City and Guilds School before joining the South Kensington School. 
Laurence had a keen interest in pursuing writing and fine arts and was greatly influenced by William Blake (1757-1827), himself a writer, artist, and engraver (40). Laurence designed books for The Bodley Head, where he displayed his skills in cover design (41). His design and illustration skills are evident in his sister, Clemence's The Were-Wolf (1896). He also designed and illustrated books for other publishers, such as George Meredith's Jump to Glory Jane (1892), R. Nisbet Bain's Weird Tales from The Northern Sea, Christina Rossetti's Goblin Market (1893), and Jane Barlow's The End of Elfintown (1894) (Hodgkins 17-9).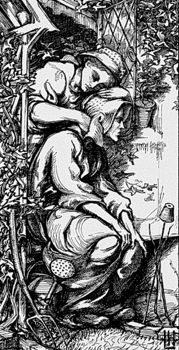 Figure 3. Laurence Housman, illustration for Christina Rossetti's Goblin Market (1893)
As a writer, Laurence first launched his career when he published an article on William Blake in the Universal Review (1889-1890), catching the attention of the magazine's editor. Laurence's first illustrated fairy tale "The Green Gaffer" was later published in the same magazine in 1890 (Oakley 44). A few years later, he published his first book, Green Arras (1896) which consisted of a collection of his poetry with illustrations engraved by Clemence, to whom he dedicated the work. Some of his other books include The House of Joy (1895), All Fellows (1896), The Cloak of Friendship, and An Englishwoman's Love-Letters (1900), for all of which he also made the cover design and/or illustrations (Hodgkins 15-6).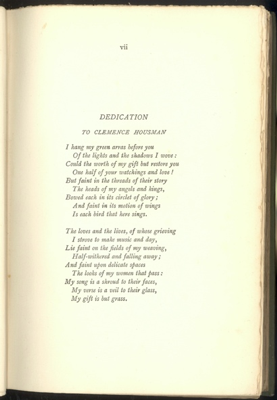 Figure 4. Dedication of Green Arras by Laurence Housman to Clemence Housman (1895) 
Because of failing eyesight, his career as an artist came to an end in the early twentieth century and he began to focus more on play-writing instead. Some of his most notable plays include Victoria Regina (1934) and Alice in Ganderland (1911) in which he incorporated messages from the Women's Suffrage movement (Oakley 89). Laurence was a high-profile activist for the movement, along with Clemence, although she did not have such a public role herself (76). 
Laurence's autobiography, The Unexpected Years (1936), details events in his life, including his siblings, Alfred Edward and Clemence Housman and their contributions to the literary and art world. Clemence and Laurence's close bond was evident through all their collaborative works, such as The Were-Wolf, the Suffrage movement, and the fact that they spent most of their lives together. After Clemence's death, Laurence continued to make efforts in publishing his works. Laurence died in 1959 at Butleigh Hospital in Glastonbury and was buried in a Quaker graveyard at Street, Somerset as per his wish (Oakley 140-41).
Hadia Khan, Ryerson University, 2018
Citation: Khan, Hadia. "Brief Biographies of Clemence and Laurence Housman," Clemence Housman's The Were-Wolf, edited by Lorraine Janzen Kooistra, Hadia Khan, et al, COVE Editions, 2018. https://editions.covecollective.org/edition/were-wolf/brief-biographies-clemence-and-laurence-housman
Works Cited
Hodgkins, I.G. Kenyur. The Housmans: Laurence Housman 1865-1959; Clemence Housman 1861-1955; Alfred Edward Housman 1859-1936. National Book League, 1975.
Housman, Laurence. The Unexpected Years. Bobbs-Merrill Co, 1936.
Kooistra, Lorraine Janzen. "Clemence Housman's The Were-Wolf: Querying Transgression, Seeking Trans/Formation," Forthcoming in Victorian Review, 2018.
Oakley, Elizabeth. Inseparable Siblings: A Portrait of Clemence & Laurence Housman. Brewin Books, 2009.